The Twin Cities North area welcomes you to enjoy the best of both worlds - a friendly small town atmosphere with a world-class quality of life. Rustic yet contemporary, the Twin Cities North area is the perfect place to live, work and play. Encompassing the communities of Arden Hills, Columbia Heights, Fridley, Mounds View, New Brighton, Roseville, Shoreview and Spring Lake Park, the northern suburbs have state-of-the-art health care, high quality education, a low crime rate, an abundance of recreational opportunities, affordable housing and a thriving business community which provides low unemployment rates and prime economic and industrial growth.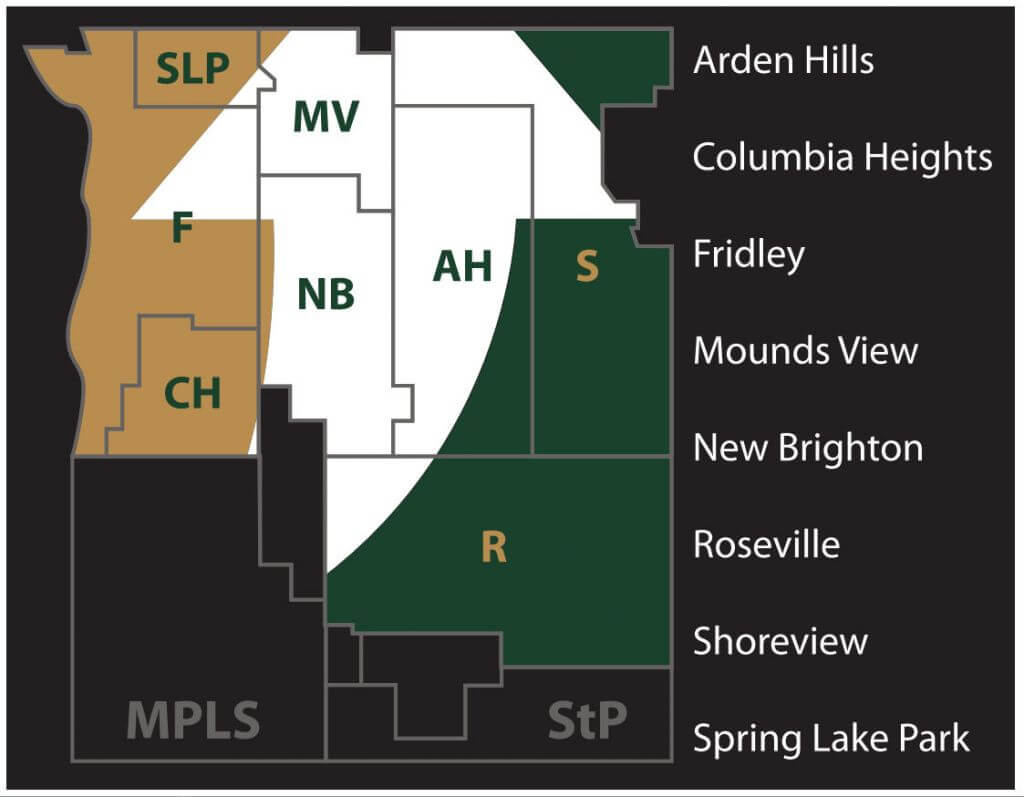 Ramsey County

220 Court House
15 West Kellogg Blvd.
St. Paul, MN 55102
tel. 651.266.8500
Website: www.co.ramsey.mn.us
Welcome to Ramsey County, Minnesota. The county is named after Alexander Ramsey, the first governor of the Minnesota Territory, and is the home of the state capital. Although Ramsey County is the smallest county in the state and the most densely populated, it has many beautiful recreational areas and parks. The Parks and Recreation Department operates nine county parks, five regional parks, extensive bike and cross-country ski trail corridors, golf courses, ice arenas, swimming beaches, boating facilities and much more. Within its borders there are 17 municipalities and the most colleges and universities of any county in the state. There are six suburban county libraries.
The Ramsey County Court House is a good symbol for the County - an area with a strong cultural heritage that is also well-integrated with modern technology-based systems. The Court House is a beautiful Art Deco structure that is on the National Register of Historic Places. Built in 1931 and renovated in 1993, it combines elegant design with recent technology as the operation center for local government and the courts.
Regional Parks
Ramsey County, as an implementing agency for the Regional Recreation and Open Space System, is responsible for five regional parks and five regional trail corridors consisting of over 3,774 acres.
County Parks
The nine county parks are generally lakefront properties offering a variety of outdoor recreation activities such as boating, picnicking, play areas and swimming.
Beaver Lake
1050 Edgewater Boulevard
St. Paul
City Hall
2401 Highway 10
Mounds View
Groveland
Groveland Road & Arden Avenue
Mounds View
Hillview
Hillview and Long Lake Road
Mounds View
Island Lake
3611 North Victoria Street
Shoreview
Lake Gervais
2520 Edgerton Street
Little Canada
Lake Josephine
3027 North Lexington Avenue
Roseville
Lake McCarrons
1795 North Rice Street
Lake Owasso
370 North Owasso Boulevard
Shoreview
Lakeside
7840 Pleasant View Drive
Mounds View
Oakwood
Quincy Street and Hillview Road
Mounds View
Random
5214 Long Lake Road
Mounds View
Tony Schmidt
3500 Lake Johanna Boulevard
Arden Hills
Turtle Lake
4979 Hodgson Road
Shoreview
White Bear Lake
5050 Lake Avenue
White Bear Lake
Woodcrest
Woodcrest Ave & Silver Lake Rd
Mounds View
City Parks
The cities within Ramsey County believe that parks and recreation contribute to the overall health of individuals, neighborhoods and the community. They offer well maintained parks, facilities and recreation programs year round. For more information on specific parks, amenities and reservations, please contact the individual city's parks and recreation department.
City of Arden Hills
Parks and Recreation Department
tel. 651.634.5120
City of Little Canada
Parks and Recreation Department
tel. 651.766.4029
City of Mounds View
Parks and Recreation Department
tel. 763.717.4040
City of New Brighton
Parks and Recreation Department
tel. 651.638.2130
City of Roseville
Parks and Recreation Department
tel. 651.792.7006
City of Shoreview
Parks and Recreation Department
tel. 651.490.4700
Anoka County

2100 3rd Ave
Anoka, MN  55303
switchboard tel. 763.421.4760
TTY 763.323.5289
Website: www.co.anoka.mn.us
Anoka County, located minutes from the Twin Cities at the confluence of the Mississippi and Rum Rivers, is one of the fastest growing counties in Minnesota. In Anoka County you will find a unique blend of urban amenities in a friendly, small town atmosphere.
With award-winning schools, two major hospitals, world-class recreational facilities, and two post secondary educational institutions, it's easy to see why so many people are choosing to live and work in Anoka County.
Residents are well educated and take pride in their work and community. Businesses, attracted by affordable land, are building and expanding in Anoka County.
Major corporations such as Medtronic, Aveda, United Defense, Hoffman Engineering, Cummins Power Generation and Federal Cartridge have found homes in Anoka County.
Regional Parks
Regional parks typically range from 100 to well over 1,000 acres. They provide a wide array of outdoor recreation opportunities similar to state parks. Regional parks are typically located on rivers or lakes, offering resources for boating, fishing, and swimming. Acquisition and development funding is supported by the State of Minnesota and the Metropolitan Council. Anoka County is responsible for the operation and maintenance of these regional parks and trails.
County Parks
County parks provide substantial benefits to local communities and neighborhoods. The parks are usually less than 200 acres in size and provide a range of natural resource based outdoor recreation. Significant improvements have been made in recent years at Rum River South, Manomin, and Rum River North County Parks. Information regarding the parks can be found at tel. 763.757.3920.
Bunker Hills Regional Park
Highway 242 and Foley Boulevard
Coon Rapids
Coon Lake County Park
5450 197th Avenue NE
Wyoming
Coon Rapids Dam Regional Park
9750 Egret Boulevard
Coon Rapids
East Twin Lakes County Park
9435 Viking Boulevard NW
Burns Township
Islands of Peace/ Riverfront Regional Park
5100 East River Road
Fridley
Kordiak County Park
1845 49th Avenue NE
Columbia Heights
Lake George Regional Park
3100 217th Avenue NW
Oak Grove
Locke County Park & Rice Creek West Regional Trail
450 71st Avenue NW
Fridley
Martin-Island-Linwood Lakes Regional Park
22480 Martin Lake Road NW
Linwood Township
Rice Creek Chain of Lakes Regional Park Reserve
7401 Main Street
Lino Lakes
Rum River Central Regional Park
17955 Roanoke Street NW
Ramsey
Rum River North County Park
3525 Bridge Street NW
St. Francis
Rum River South County Park
3000 Ferry Street North (Hwy 47)
Anoka
City Parks
The cities within Anoka County recognize that parks, trails, public open space and other recreational opportunities are essential elements in creating a strong sense of community. For more information on specific parks, amenities and reservations, please contact the individual city's parks and recreation department.
City of Blaine
Parks and Recreation Department
tel. 763.785.6164
City of Columbia Heights
Parks and Recreation Department
tel. 763.706.3730
City of Fridley
Parks and Recreation Department
tel. 763.572.3570
City of Spring Lake Park
Parks and Recreation Department
tel. 763.792.7201